How much is the online membership/what currency is it in?
Wild Pilates Online membership is $19.99 NZD + gst per month a total of $22.99, or an Annual payment of $199.99 NZD
How do I cancel my online subscription?
You are able to cancel your membership at any stage, no minimum sign up period. Navigate to the settings menu in the top right corner of the screen and select 'Manage subscription', click cancel subscription. If you have trouble you can view more information here
How do I resubscribe If I have already used my free trial?
In the sign up page, you'll see "you are not eligible for a free trial" notice when you click start subscription. Returning users can still proceed and press the "Start Subscription" button again to sign up.
How do I find or reset my password?
Visit the login page and enter your email address. Click Next. Underneath the password field, select Reset your password. Enter your email address on that page and select Reset Password. Reset password here
Are my credit card details safe?
Yes, all payments are taken via stripe. Stripe has been audited by a PCI-certified auditor and is certified to PCI Service Provider Level 1. This is the most stringent level of certification available in the payments industry
Who is my instructor?
Laura Mohi is the founder of Wild Pilates and has been a Pilates instructor and personal trainer for 9 years and a studio owner for 5 years. You can read more about Laura in our About section.
What workouts are right for me?
Please see our workouts page which will explain what workout categories we have on our online studio and will suggest the best place to start
Can I watch the workouts on a TV?
Yes Chrome cast or Apple TV or connect to TV with HDMI cord
How do I switch from monthly payments to annual or vice versa
You can switch your subscription renewal frequency on your purchase settings page here: https://watch.wildpilates.co.nz/settings/billing
From there, click on "Manage Subscription" and choose the desired subscription length (monthly or yearly), and then the changes will be saved and applied upon your next renewal.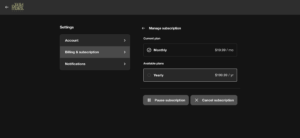 What do I get access to when I sign up
You will get access to everything we offer. Including 300+ Pilates workouts all challenges and the weekly schedule.
What equipment do I need
Our online studio can be done with no equipment at all. As an option, we suggest a Pilates Mat, a small Pilates ball, and small hand weights ( I use 0.5 kg to 1 kg)