We are very lucky to Have Damian "wellness architect" as one of the expert guests for the Wild Pilates 30 day challenge. Damian shares his love of meditation with a very special meditation designed to compliment the Pilates workouts during the new challenge.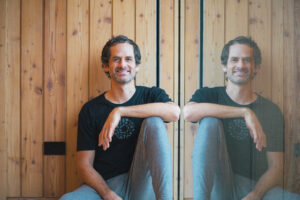 Introduce yourself, tell us a little about yourself?
My name is Damian Chaparro, I am a husband, DJ, nature lover, and creator of Aro Ha Wellness Retreat.  Through evidence based wellness practices I help people explore the art of living exceptionally well. 
For those who have not heard about your amazing business, can you explain what you do and how this started? 
Aro Ha is a multi-award winning retreat where wellness traditions meet luxury. Designed to regenerate your body and mind, Aro Ha's programs are based on research that suggests we can fundamentally transform our physical and emotional health through our daily habits.
How long has meditation been part of your life? 
I was 19 when I first remember a formal meditation practice.  It was given as part of a yoga class at Uni, and I thought it was weird.  It didn't stick for me initially.  It felt like a waste of time.  I began to understand it's potential, in my 30's, and it's only gotten better with practice.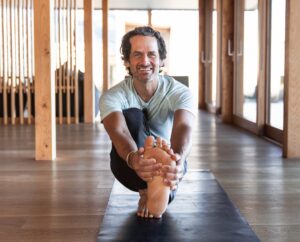 How do you find it improves your life? 
Meditation is the most valuable tool I've found to help us understand where our true challenges exist.  We can fairly quickly have a direct experience of our cultured self, and then we can begin the journey of unravelling what does't serve us.
Any tips for those of us just starting to include meditation? 
The first tip is realising that we are meditation.  We already have perfect consciousness, so in one way there isn't anything to learn.  Meditation helps us unlearn, or become clear about where our minds serve us, and where they get in the way.  The skill of meditation is in our sustained laziness, our not doing, our effortlessness, our selflessness, which of course can be difficult if we never do nothing.
Do you suggest any other mindfulness practices?   
Once you understand the concept, I suggest regularity, and variety.  We can choose presence with anything we do, feel, or experience.   Any point is the takeoff point.
Do you have a favourite piece of advice or quote?  
I love Rumi – "Your task is not to seek for love, but merely to seek and find all the barriers within yourself that you have built against it."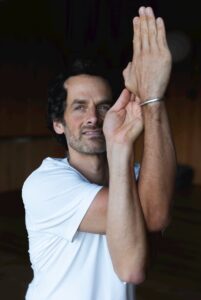 Now this one is important , What do you enjoy or value most about Pilates? 
Pilates is an incredible foundation for movement and non-movement.  We can't do much, including meditation, if we can't move or sit comfortably.  Pilates allows everything else to become easy.  
What are you listening to or reading at the moment? 
Loving a book called Breath by James Nestor
You can join Damian and experience his meditation in the latest online 30 day challenge