What better gift than the gift of wellness and encouraging your loved ones to prioritise themselves. With a Wild Pilates membership you will get access to over 250 on demand Pilates classes suitable for all levels including pre/postnatal. As well as 15 challenges and new workouts each week. 
It will just take a few minutes and there is no need to worry about shipping or braving the Christmas crowds.
Most Popular Gifts: 
You can select anywhere from 1 – 12 months
The Details: How to Buy 
Click here to be taken to the gift a subscription page. Choose anywhere from 1- 12 months by clicking the drop down options. Or select one of the most popular options  1 month, 3 month or 12 months. 

We'll email the recipient instructions for activating their gift on the date you specify when purchasing.

You select the delivery date so they will not be alerted until then – set December 25th, if it is a gift for Christmas.

 They can activate the membership at any time. The membership will not be begin until the recipient activates the account, on a date that suits them.

Easy as that!
Printable Gift Card 
The best part of gifting a membership is you don't need to go shopping or worry about shipping. However If you prefer to give something physical we have created a gift card that you can download and print.  Simply fill out to/from and the membership length you have purchased. Download Gift Card here 
Gift Guide
Wild Pilates top picks for gifts under $100. This is a selection of my favourite gifts and everyday essentials that I love and use everyday.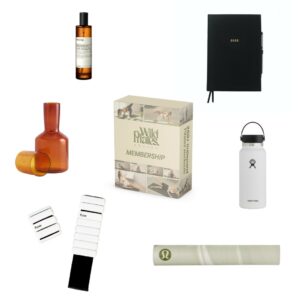 Happy Holidays x