I am very excited to announce Wild Pilates Online is now our full time offering. There are so many exciting new things on the horizon and I'm looking forward to offering more value than ever before to our online members. Wild Pilates Online is our most convenient, affordable and accessible option yet.  
The Wild Pilates mission has always been to make Pilates accessible to more people, while sharing the benefits of Pilates and nature (hence the wild).
My Journey:
I have now been a full time Pilates instructor for 9 years. After uni I trained as a personal trainer and began working in a gym. I enjoyed working with clients but knew the gym environment wasn't for me long term. I spent a few years making my way through the Stott Pilates courses and I am trained in Mat Pilates, Intensive Reformer, Cadillac chair and barrels, Injuries and special populations and barre. I combined this training with my previous experience as a PT and over time developed my own Pilates style, which I think is really important if you want to make this a long term career.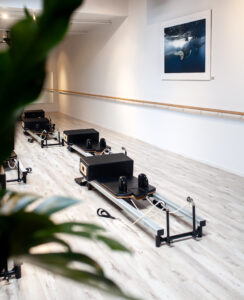 After a few years of this I decided to push myself and go out on my own and in 2016 Wild Pilates was established. Built off my savings as a Pilates Instructor and a small business loan from my bank I set out to achieve this on a very tight budget. At this stage Wild Pilates was a boutique reformer and Mat Pilates studio in Newmarket,  which grew quickly. I was now wearing all hats,  worked crazy hours, I had amazing instructors working with me and lovely clients. 
During this time I learnt a lot about my strengths and weaknesses, managing staff and adjusting your business to suit your clients needs. I started with 5 reformers and expanded to 10 reformers within the first year,  to offer larger dynamic Pilates classes.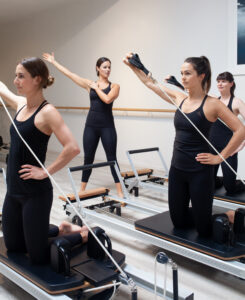 In my 4th year of business, Covid 19 arrived. I had a feeling Covid would last longer than expected. I knew I needed to set up an option to support my clients and help keep them moving at this time. I personally wasn't interested in zooms, I wanted to make this a long term option. I wanted to focus on the quality of the video/ audio and focus on delivering a professional product that clients could come back to anytime and fit easily into their lifestyle. The whole idea was a personal Pilates studio that fits around your lifestyle. 
We were not back in the studio for multiple months so I spent this time developing my online studio and improving as I went along. I enjoyed the online work and I found I was good at it. Once back in the Newmarket I gave my notice to not resign the lease that ended later that year as I enjoyed helping more people online . I have always found it best to be willing to adapt and learn in business, over time your business changes, your clients needs change, your personal needs change.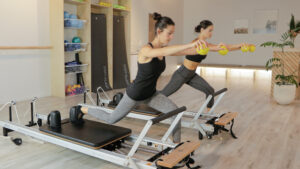 As a studio owner I always had a niggle in the back of my mind, surely I could make my style of Pilates more accessible, not just for the few that can get one of the limited spaces or were able to afford the reformer class price. With Wild Pilates Online I set out to achieve that. 
I moved from my larger studio with staff to a smaller space. I had small groups of 4 and used this space as my online hub.  Over this time I fell even more in love with mat Pilates. My form,  flexibility and core strength all increased immensely.  I found I wasn't using the reformers or the other equipment I would instead find myself on the mat planning out workouts for my online clients.  I also enjoyed the variation in my work day. I'm very self motivated, I enjoy time on my own, I love learning new things so I set about taking the majority of my business online. It's not for everyone; you need to enjoy filming, working alone most of the time, learning new skills and sharing as much value as you can.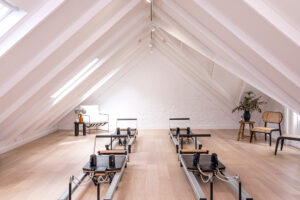 I soon realised if I don't devote myself to this full time I'm not going to do it as well as I know I could. After this 2nd level 4 lockdown ( August 2021)  I have decided to go full time no longer offering and in-person option and focusing on and making Pilates accessible to more people.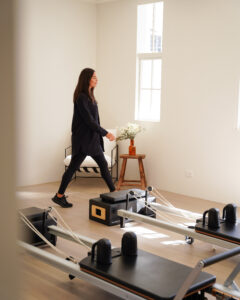 There were aspects of being a studio owner that did not suit my personality and lead to near burn out. I had to sit back and ask myself what was I doing this for? The answer was simple, to get more people moving and feeling their best! I thought let me focus on that , I have always related to a lot of people and made people feel comfortable to try Pilates and I was so excited to be able to do that on a larger scale.
In saying that it wasn't an easy decision ,  it is such a personal job you are invested in your clients lives. But I know this is where I'm meant to be, it is how I can help more people and also what excites me. Time is the only resource we all have, allocating it in an efficient manner towards things that matter TO YOU is important. 
My Priority Going Forward: 
There has to be a time and place for hard work but that can't be all the time. Most importantly it has to be hard work towards YOUR greater goal. It is important to get a sense of clarity and set goals / remember your purpose – and make decisions from that place.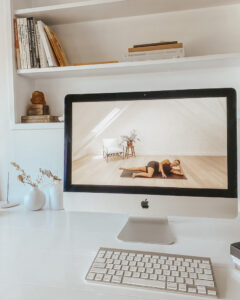 I believe you can't do everything well and if the last few years have taught us anything it's when to stop,  reflect and focus on what is most important to you.  How can you be the best version of yourself (are you still able to prioritise all the things that make you feel good?) Only then will you be able to offer the most to your clients and community. 
Wild Pilates Online is our most convenient, affordable and accessible option yet.  The Wild Pilates mission has always been to make Pilates accessible to more people while sharing the benefits of Pilates and nature (hence the wild) . I am so happy to be able to offer this and what is the point of having a business and sharing your skills if it doesn't make you happy. I want to enjoy the journey and from that place offer more than ever before.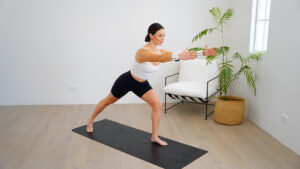 Remember our goals are marathons not sprints and I think it is important to enjoy the stepping stones to discover how you operate best and how you can offer the most value possible to your clients/customers. I hope to inspire others to prioritise themselves and all the things that make them the best version of themselves.
I'm very excited about this next step and thank all of my clients for being on this journey with me and cheering from the sidelines even when these changes have not suited you personally. 
Online members get ready for all new content,  exciting new challenges and locations. 
Laura x